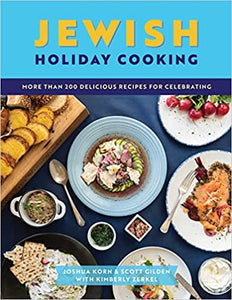 A celebratory collection of over 100 delicious recipes that bring family together at the table each holiday, from Passover to the Festival of Lights.


Embrace the international culinary traditions of Jewish cuisine each holiday with 
Jewish Holiday Cooking. 
The menu is one of the most important elements to consider when it comes to holiday celebrations. Holiday meals vary widely from Sephardic to Ashkenazic and Mizrahic traditions, meaning that for Jewish people, there's no one right way to celebrate. With nostalgic recipes and new dishes inspired from Moroccan, Russian, German, and more cuisines, these dishes rich in variety and heritage are sure to satisfy and delight.

This cookbook includes:

- Over 250 flavorful recipes that celebrate regional authenticity and modern flair
- Sample holiday menus for Rosh Hashanah, Hanukkah, Passover, breaking the fast of Yom Kippur, and Shabbat dinner
- Exquisite dishes such as Salted Honey Apple Upside-Down Cake, White Wine Braised Leeks, Cholent, Sufganiyot, Bourekas, Keftes de Espinaca, Tzimmes Chicken with Apricots, Prunes & Carrots, Charoset, Matzo Brei, and more.

With this cookbook, you can explore the regional flavors that have informed this deeply cultural cuisine. Whether you're preparing your first Passover feast or looking for new inspiration to bring to your table, bring joy to any celebration with 
Jewish Holiday Cooking.